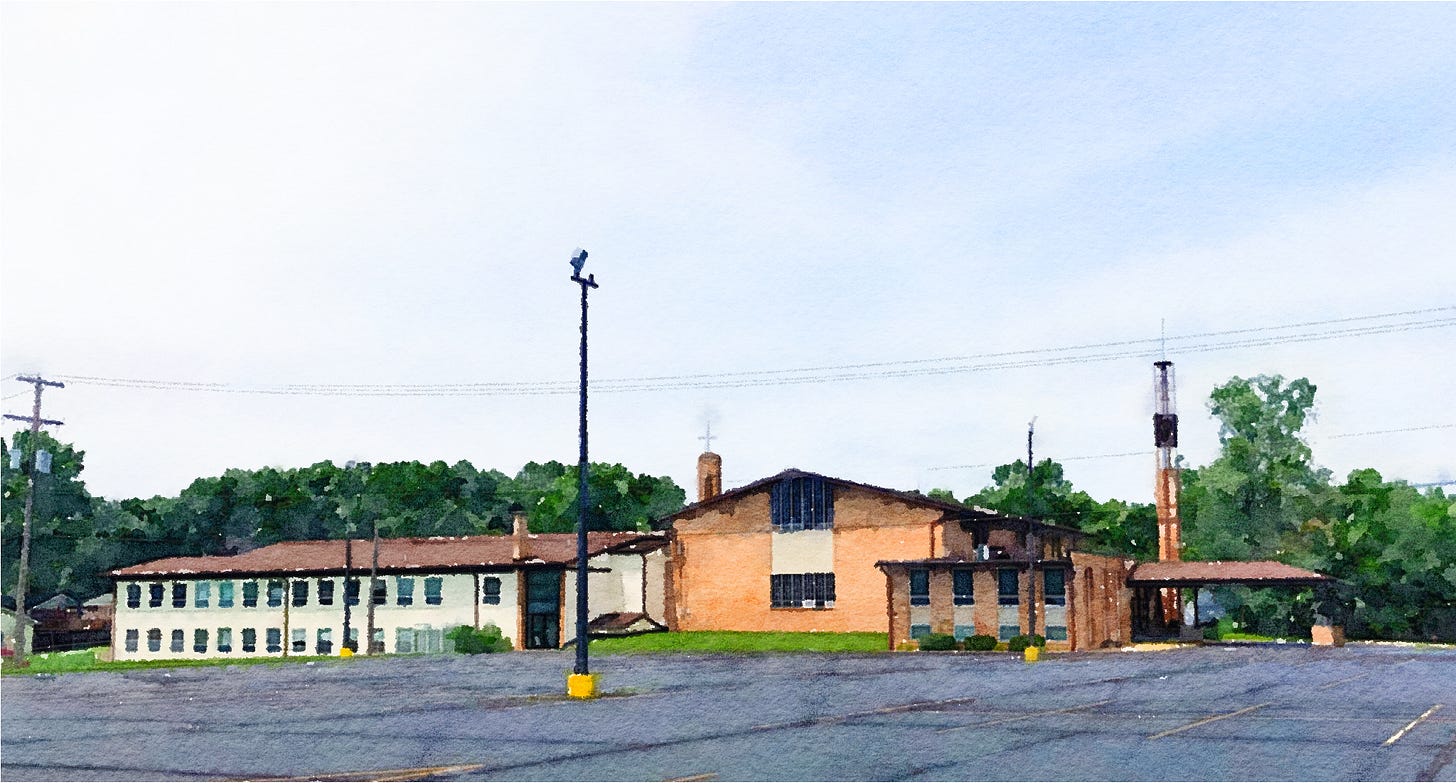 This morning I received a message from one of our sons. He was up early and preparing for work. He works in oil in west Texas but up until recently he was a police officer. A few years ago he was called to a home where an unspeakable tragedy occured. It was a horrifyingly sad scene. Overcome by the burdens of life and years of drug addiction a woman there had died at her own hand. He could not help but notice the near her body was a Bible opened to the book of Revelation chapter 12.
Revelation 12 is a chapter about War in Heaven and on earth—spiritual warfare. This morning our son had come across a little video on Instagram or TikTok speculating about constellations and Christ's return. The speaker had a novel and sensational interpretation of what Revelation 12 means.
I will not go into detail about the meaning of Revelation 12 other than to say it describes spiritual warfare across time including Jesus, the Devil, and the nation of Israel past and future.
Writing Light Into the Darkness
Now I'm up early at my keyboard in the corner of my room writing light out into the darkness. Here is the thing. It is vital that you understand the world around you. It's never been more important then it is now and things have never been more confusing or troubling. It is a matter of life and death—spiritual life and death that you understand the world around you from God's point-of-view.
How Are We To Understand Our World?
According to God's design every person should be a serious student of the Word of God. The Word of God should be our meditation day and night. Many, many places in the Bible teach us that to flourish spiritually—to be blessed by God one must meditate on the word of God day and night. You can read this right now in Psalm 1.
"Blessed is the man who walks not in the counsel of the wicked, nor stands in the way of sinners, nor sits in the seat of scoffers; but his delight is in the law of the Lord, and on his law he meditates day and night. He is like a tree planted by streams of water that yields its fruit in its season, and its leaf does not wither. In all that he does, he prospers. The wicked are not so, but are like chaff that the wind drives away. Therefore the wicked will not stand in the judgment, nor sinners in the congregation of the righteous; for the Lord knows the way of the righteous, but the way of the wicked will perish." (Psalm 1, ESV)
When you read the scriptures carefully it is very clear that God has a plan for people to understand truth and live a life blessed by God. We are told to meditate day and night, but we are also told to assemble and systematically teach all of the Bible.
Look was Paul said when he was facing death and departing from the elders of the Ephesian church.
"…I did not shrink from declaring to you anything that was profitable, and teaching you in public and from house to house, testifying both to Jews and to Greeks of repentance toward God and of faith in our Lord Jesus Christ." (Acts 20:20–21, ESV)

"Therefore I testify to you this day that I am innocent of the blood of all, for I did not shrink from declaring to you the whole counsel of God." (Acts 20:26–27, ESV)
God intends for faithful pastors to teach the people the whole counsel of God and not to withhold anything that is helpful to them.
Notice what Paul wrote to young Timothy:
"Let the elders who rule well be considered worthy of double honor, especially those who labor in preaching and teaching. For the Scripture says, "You shall not muzzle an ox when it treads out the grain," and, "The laborer deserves his wages."" (1 Timothy 5:17–18, ESV)
Paul said, be sure those who preach the gospel can live of the gospel. Pay them so they have time to faithfully, systematically teach the Bible. If they do not teach the whole Bible faithfully they will have blood on their hands according to Acts 20:26-27 quoted above.
In 1 Corinthians Paul says this:
"In the same way, the Lord commanded that those who proclaim the gospel should get their living by the gospel." (1 Corinthians 9:14, ESV)
Don't Miss This
Now since this is true what does it tell us about how God has designed things to work? He wants us to sit under faithful and systematic teaching of the Bible. He does not want his church to be a social club or a special interest group. He has not designed the church to be a group gathered to influence the world culturally or politically. The church is designed to assemble and teach the Word of God.
Churches should support faithful pastors. Pastors should study deeply and take their teaching seriously. Care should be taken to see to it all the people learn all the Bible. Children should have classes arranged around a systematic teaching of the Bible
Children should be introduced to all the major characters of the Bible. They should go a number of times through the timeline of the Bible and geography of the Bible lands. They should be taught all the major doctrines of the Bible repeatedly as they pass through their childhood.
What Should You Do?
What could possibly be more important than full and faithful participation in a faithful local church built on the truth of the Bible? This should move us beyond occasional attendance.
Most pastors will tell you that faithfulness in church attendance is declining in America. We are in a time of falling away—a season of apostasy. It is critical that now of all times we not only participate in weekly church meetings, but that we take serving in the church and supporting the church very seriously.
Our son was up early seeking answers but he was not depending on TikTok for something so important as understanding how to guide his wife and three little sons. He is in the Word daily. He is listening to teaching on podcasts. He is seeking out truth and a right and godly understanding of his world.
The Shipleys
My grandparents on my mother's side were Bud and Charlotte Shipley. When they came to Christ as young parents everything changed. They turned from sinful empty living to Christ. God restored their broken marriage. They found a local church and participated and served and gave faithfully for the rest of their lives. At first they were at Calvary Baptist Church in South Bend. Calvary planted a church closer to their home and they were a part of that church plant called Grace Baptist Church. A few years later Grace Baptist planted Fulkerson Park Baptist in Niles, Michign just bit further north. Later I was called to be the Youth Pastor at Fulkerson.
They are now with the Lord but while they were alive you would find them among the faithful at Fulkerson Park in each service, Sunday School, Morning and Evening Worship on Sunday, and always on Wednesday night for prayer meeting. They taught and helped and gave and supported missionaries and attended revival services and invited friends and witnessed to people far from God. They had christian books and magazines by their chairs and continually talked about the things of the Lord through the week.
Their lives had been rescued and transformed. They clung to Christ and to His church. They loved the church and the people of the church and they loved and supported their pastors even though they were people of very modest means.
Why Have I Written This to You?
I'm up in the corner of my room as the sun comes up this morning writing this because my heart is so deeply burdened for you and for your family. The church is still God's plan. Faithful pastors preaching the whole counsel of God are still God's way. Thorough, faithful, systematic Bible teaching and preaching is still the way God intends for us to nourish our souls.
The other night I met a man with a wife and new child. He was a bright educated man who had studied to the doctoral level. He was intelligent and polite. He told me that he was a Christian. I asked him, "Where do you go to church?"
He said, "Well, we really haven't been to church in years. We don't have a church."
Here was an otherwise intelligent man who identifies as a Christian who does not value the church at all. He does not support it. He does not serve. He does not contribute. He does not participate. He does not even attend—not even occasionally.
As a spiritual leader of his family he has blood on his hands. (Acts 20:26-27) He would never neglect his child's nutritional needs, or educational needs, or physical needs for food and shelter, but he in completely disconnected from the church God designed for spiritual and human flourishing.
If you are an occasional church attender or if you are sporadic in your attendance and don't contribute or serve the local expression of the church of God you are disobedient to God and you are neglecting a powerful means of grace.
If your participation and identification with the local church is a hit-and-miss pattern, if you attend only when you don't have more interesting things to do or trips to take, it is very, very likely that the next generation of your family will walk away altogether.
There is Something About It.
Our son, Dan, who called this morning was telling me the other day about how difficult it is to get all three of the little toddlers settled into a Sunday School class and Jr. Church. He said, "The other day we got to sit through church together. I loved it. There is something to that."
He is right. There is something to giving to missions. There is something to teaching a class. There is something to setting up and tearing down and putting away and cooking and planning and organizing and seeing to it you do what you have to do to see to it that your church is a strong church faithfully and systematically teaching and preaching the whole Bible to all the people.
Thank God for the internet and Google and cell phones and iPads and social media to spread the word. Thank God for good Christian music at our fingertips and faithful eaching on our phones and computers. Thank God for everyone trying to make truth known on Facebook, TikTok, Instagram, and Twitter, but theser are all supplimental to the way God designed things t work in humble, simple, faithful clusters of Jesus people gathered in churches doing what God said to do and hungrily devouring the teaching of the Bible.
Where is your church? How do you serve and support it?
Bittersweet Farm | September 19, 2023